Newspapers published in English in Hawaii, 1862-1923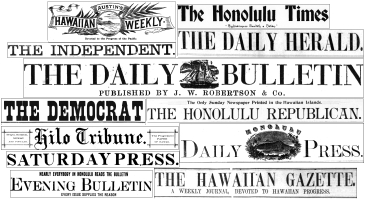 Permanent URI for this community
In July 2008 the University of Hawaii at Manoa Library was awarded a National Digital Newspaper Program grant from the National Endowment for the Humanities.[1]The grant provided for digitization of newspapers to be included in the Library of Congress' Chronicling America; Historic American Newspapers collection. In July 2009 the UH Library received additional funding to digitize more pages of newspapers. In July 2010, UHM Library received a second 2-year grant to digitize an additional 100,000 pages from newspapers covering the date ranges 1836-1922. Currently, UHM Library is working on its third 2-year grant to add an additional 100,000 pages continue their participation in the NDNP. The Library technical project site [http://hdnp.hawaii.edu/] has more information about the newspaper project, outreach efforts, and while the LibGuides page[http://guides.library.manoa.hawaii.edu/chroniclingamerica] includes historical feature articles, subject and topic guides. Related material: Hawaii newspapers a union list. Lists all known extant newspapers since 1834.
[1]Any views, findings, conclusions, or recommendations expressed in this web resource do not necessarily represent those of the National Endowment for the Humanities.
See also: Temperance Advocate, Temperance Advocate and Seamen's Friend, The Friend of Temperance and Seamen, The Friend online via the Mission Houses Museum.
Browse
Collections of this Community