Medieval Zen texts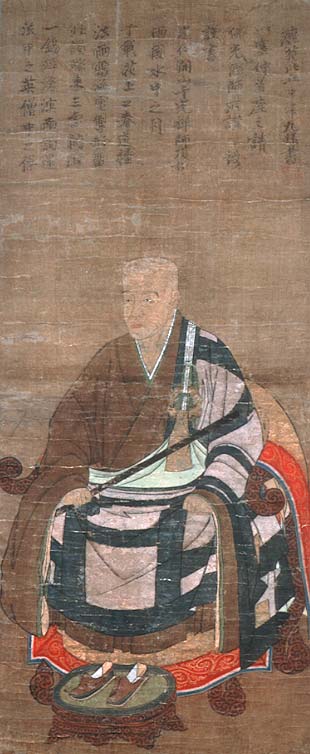 Permanent URI for this collection
Includes texts from the Rinzai and Sōtō traditions, such as the Shūmon shōtō roku 宗門正燈錄 by Tōyō Eichō 東陽英朝 (1428–1504). This image represents Myōan Yōsai 明菴榮西 (1141–1215) considered as the founder of the Rinzai school.
Browse
Recent Submissions
Meditation Sutra of Dharmatrāta

(

Based on the edition from Nánjīng Lǐbù cíjì qīnglìsī 南京禮部祠祭清吏司, reproduced as Dà Míng chóngkān Sān Zàng shèngjiào (pǔtōng gǔjí) 大明重刊三藏聖教(普通古籍).,

1551

)

Meditation treatise in seventeen sections. Its Preface is attributed to Huìyuǎn from Lúshān. Although the Taishō edition of this text (T 15 no. 618) does not explicitly mention Lúshān Huìyuǎn 廬山慧遠 (334–416), this attribution is made clear in the Chūsānzàng jìjí 出三藏記集 (Compilation of notes on the translation of the Tripiṭaka, T 55 no. 2145) by Sēngyòu 僧祐 (445–518). This source quotes the whole preface (65b22–66a23) except the last explanatory sentence. The first eight sections detail breath counting meditation (Ⓢ ānāpāna-smṛti Ⓒ ānnàpánnà niàn 安那般那念). The next four sections focus on the contemplation of impurity (Ⓢ aśubha-bhāvanā Ⓒ bújìng guān 不淨觀), and the remaining sections address various other practices.

Shūmon Shōtōroku 宗門正燈録 (13 fascicles, 7 volumes)

(

Nōshū Hōunzan Jōezenji 濃州法雲山定慧禅寺 (based on the indication Kizan no shita 岐山之下 at the end of the woodblock print),

1630-01

)

Collection of traditional biographies of Zen teachers compiled by Tōyō Eichō 東陽英朝 (1428–1504) and edited by his distant successor Gudō Tōshoku 愚堂東寔 (1579–1661). It contributed to establish the new Rinzai orthodoxy that was to dominate the Tokugawa period. Since the year indicated at the end of this woodblock print is 1496 (Meiō 明應5年) it has been included in the "Medieval texts" collection.