Thrum's Hawaiian Annual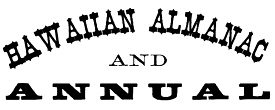 Permanent URI for this collection
"A handbook of valuable and statistical information relating to the Hawaiian Islands."
Published by: Thrum & Oat, 1877-78; by: Thos. Thrum, 1879-1924.
The Hawaiʻi almanac now commonly known as "Thrum's" was published annually between 1875 and 1974. In addition to statistical reports on business, population, government, weather and geography, each volume included directories of government, businesses and organizations, and articles and essays on a wide variety of topics.
Over the years, Thrumʻs was published under these titles:
Hawaiian Almanac and Annual
Hawaiian Annual
Thrum's Hawaiian Annual
All About Hawaii
Paper copies of the full run are kept at libraries, including the Hawaiian Collection at UHM's Hamilton Library. (UHM Call Number: DU622 .A4)