Journal of the Southeast Asian Linguistics Society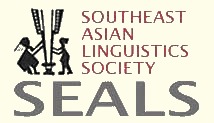 Permanent URI for this community
JSEALS is the peer-reviewed open-access electronic Journal of the Southeast Asian Linguistics Society, devoted to publishing research on the languages of mainland and insular Southeast Asia. Covering a region of extraordinary linguistic diversity, JSEALS features papers on the languages of Southeast Asia, including Austroasiatic, Austronesian, Hmong-Mien, Tibeto-Burman and Tai-Kadai. JSEALS welcomes contributions written in English that deal with general and applied linguistic issues (as opposed to cultural or anthropological topics, and not acquisition or teaching methodology) which further the lively debate that characterizes the annual SEALS conferences since 1991.
Topics may include descriptive, theoretical, or historical linguistics, dialectology, sociolinguistics, anthropological linguistics, and applied linguistics (e.g., language planning and policy, orthography development and testing, literacy development, etc. (but not pedagogy or acquisition)), among other areas of linguistics of languages of Southeast Asia. JSEALS also admits data papers, reports, and notes, subject to an internal review process.
Although we normally expect that JSEALS articles will have been presented and discussed at the SEALS conference, submission is open to all, regardless of participation in SEALS meetings. Each original article undergoes double-blind review by at least two scholars, usually a member of the Advisory Board and one or more independent referees.
Submission information can be found here: https://sites.google.com/site/sealsjournal/home/submitting-articles-to-jseals
Back issues of JSEALS are located here: https://sites.google.com/site/sealsjournal/jseals-volumes-and-articles